The contribution of women to economic activity is constantly increasing in most countries of the world. Women have made an enormous effort to be present on the map of success when it comes to entrepreneurship in the last century. The impact is significant, but they can do much more.
The encouragement of women entrepreneurship is for many countries the set of policies aimed at both developing their business potential and combating unemployment, as well as promoting gender equality
Women make a difference around the world by overcoming discrimination, prejudice, and inequality, although research provide strong evidence that there is an unequal distribution of the number of women business owners, the size of women-owned businesses, and their access to financial resources.
1972 is when women started to run their businesses.

62% of female business owners are between 40 and 59 years old.

36% of small business owners are women.

There is less than 10% of businesses owned by women in the countries of the Middle East.

Almost 90% of all women-owned businesses generate less than $100,000 yearly.

Women tend to feel less optimistic than men when it comes to their business performance.

Only half of the startups have at least one female owner.

Women are the majority of the newly self-employed.
Considering all the above, FLYie project was designed to underline the important role of women in entrepreneurship using an innovative approach: role-model game-based education, by strengthening girls' access to successful role models.
A significant production of the project was the creation of a cards game for fostering the soft skills of young girls and women while enabling them to meet and get motivated by examples of various inspiring women personalities in the world of entrepreneurship.
Through this game, the promotion of women who are examples of inspiration in the field of women's entrepreneurship is supported.
You can see some great examples below:
Why is it necessary to support women entrepreneurs around the world?
The recognition and promotion of the achievements of women entrepreneurs as role models is important for the new generation of women. Supporting successful women can encourage girls to look at their careers differently, choose entrepreneurship as a career, and break away from common gender stereotypes.
By supporting programs that help women learn about the world of entrepreneurship, connect them with successful female entrepreneurs, and helping them find access to high-quality credit sources, women can build strong businesses, solidify their position in the global economy and local business world, and gradually build a stronger, better marketplace.
How does Role-Modeling affect young people?
In addition, choosing a a role model significantly affects the opportunities one may have. At younger ages, there is always a person that someone admires and considers a role model, for example a family member, a teacher, etc. The existence of a role model in a person's life can influence the way they act and behave, their actions and motivates them to overcome their weaknesses.
Role models matter, particularly for women!
Research shows that role models have an amplified benefit for women due to the gender biases, institutional barriers and negative stereotypes women have long had to contend with across a wide swathe of professional domains.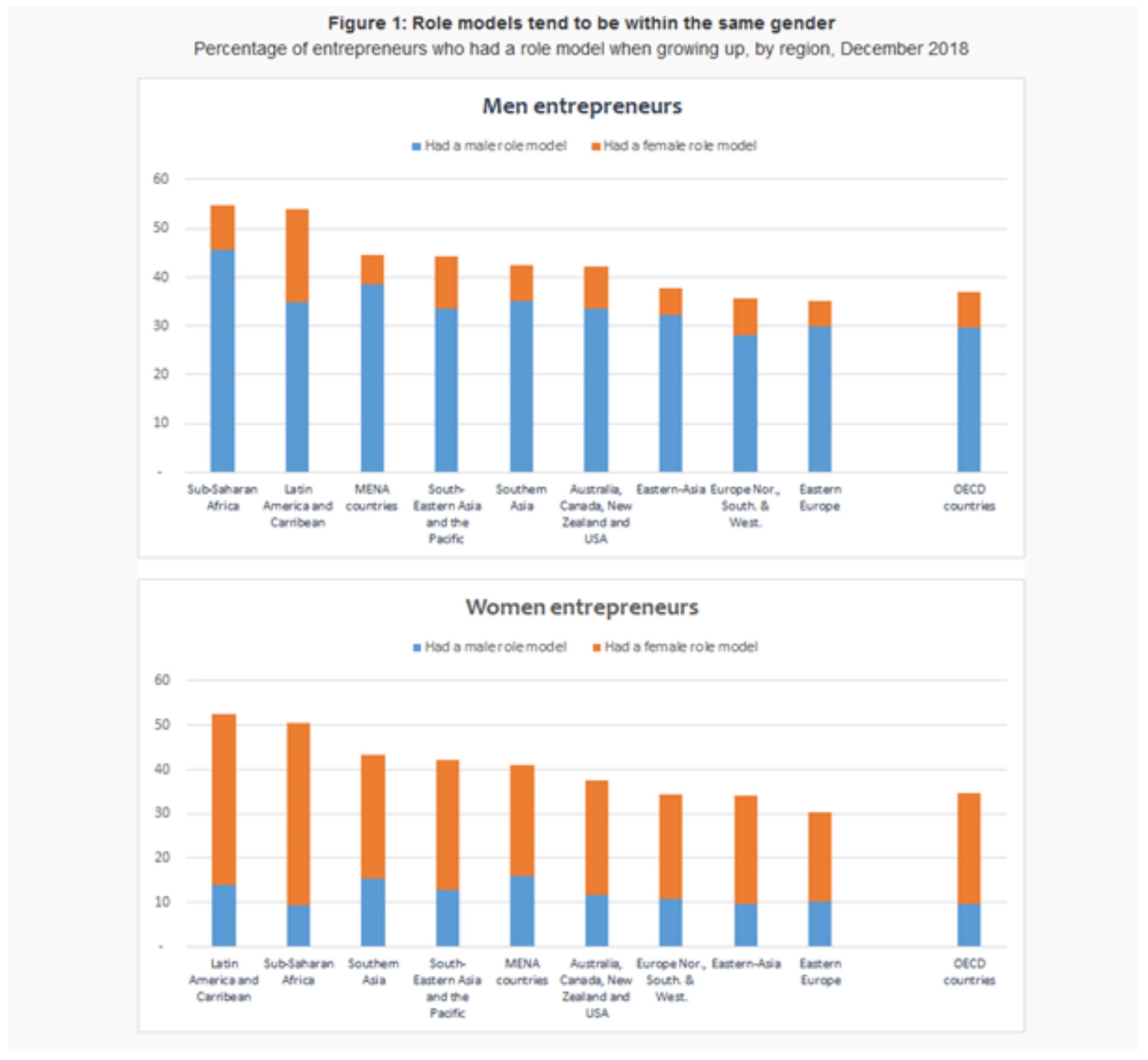 Source: https://www.oecd.org/gender/data/can-role-models-encourage-woman-to-step-off-the-beaten-path-and-become-entrepreneurs.htm
"Here's to strong women. May we know them. May we be them. May we raise them."


This project has been funded with support from the European Commission. Its content and material reflects only the views of the authors, and the Commission cannot be held responsible for any use which may be made of the information contained therein.
Project number: 2019-2-CY02-KA205-001601