Cooperative card game featuring
role-model examples of women entrepreneurs
A card game for fostering the soft skills of young girls and women while enabling them to meet and get motivated by examples of various inspiring women personalities in the world of entrepreneurship. Cooperative game means a game where players have to cooperate in order to face the challenges of the game.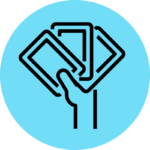 Entrepreneurship is a collaborative activity, so in the game the players work together to meet the challenges posed by the game itself. As you face challenges some of the women become 'superlegends' by you using their special powers. By playing all 18 challenge cards of the game you will have achieved:
an epic victory if you collect more than 16 superheroes,
a significant victory is achieved if you exceed 10 superheroes,
otherwise try again, the game is a different experience every time!

This project has been funded with support from the European Commission. This publication reflects the views only of the author, and the Commission cannot be held responsible for any use which may be made of the information contained therein.